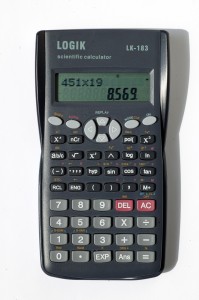 LOGIK LK 183 scientific calculator
Our best selling Logik calc which has been used by many schools and colleges since 2006.  
Excellent build quality,  with a THREE year guarantee.
The LK 183  scientific calculator is powered by AAA batteries which are supplied and fitted with each  calc.
Features include:
suitable for KS 3, KS 4 and GCSE  and
scottish exams

240 functions (164 scientific)

multi-replay, allows editing of expressions before and after calculations are completed

twin line display

fractions calculations, stats functions, standard deviation

trig functions

log / anti-log, regressions analysis

slide on case, hard plastic keys

algebraic logic 

auto power off

fitted with  AAA batteries

Three year warranty 

(excludes  damage to LCD)
Prices:  (exclusive of vat)   £ 3.85   (100+)   £ 3.90   (40+)    £ 3.95  (1-39)
New stock should be available in August  (apologies for the delay)
Class set of 30 calcs in a Gratnells storage box with foam insert (with 30 slots for
the calcs) and a transparent  lid     £ 127.50    Buying calcs in class sets is a convenient
way to store, transport  and keep track of the calcs in lessons.