SPECIAL OFFER……….. 
Thousands of students throughout the UK rely on Collins dictionaries for their studies at home, school and college.  With over 175 years of dictionary publishing they are widely known and respected.  This dictionary has very clear, easy to read print and is ideal for use at KS 3, 4 and GCSE.
With more than 600 pages,  (size 176 x 110 mm),  15,000 words,  plus a useful 16 page grammar section  it can be of great help in improving literacy standards and developing your students' study skills……. and now you can take advantage of an exceptional offer !  The list price of this dictionary is £ 6.99
but is on offer  while existing stocks last  from just  £ 2.25  each.
size: 110 x 176 mm,  616 pages, 15,000 words,                 Delivery extra.
This offer replaces all previous offers.
The Collins English dictionary
Each copy is  only    £  2.25  (160+)     £  2.40   (80+)     £ 2.50  (40+)       (RRP  £ 6.99)
Please note that this deal is subject to availability, so if you want to take advantage of these special prices please order sooner rather than later  !  Delivery  extra.
 The "Essential Students' Companion"  has been fully revised and updated. Its 384 pages are packed full of helpful information and facts …. and, as  the blurb on the front cover indicates,  designed to improve the reader's general knowledge of written and spoken English.
Topics include:
English grammar and usage
English idioms and everyday phrases
Terms from the world of business, computing, science and the arts.   Appendices include:
essay writing, world facts
Specialist subject vocabulary
Phrases from Latin, Greek and other foreign languages                           
It's a remarkable book.  Useful not only in English lessons, to help with homework  or as a reference book to improve both written and spoken English,  but also to dip into now and again just for the enjoyment of finding out more about the English language.
In our opinion it's suitable for use at KS 3 through to GCSE,  A level and university.
In fact it's the sort of book which would always be good to have around,  more or less whatever age you are.
The "Essential Students' Companion"  is the normal paperback size  (124 x 192 mm),  and
has a cover price of £ 5.99.  However,  we are pleased to offer this title for just £ 2.99  saving
£ 3 on the cover price.     NB.  Very limited stocks.
We are  also pleased to offer the Websters Word Power dictionary and  Word Power Thesaurus
From only £ 1.99 each they offer remarkable value as well as being of help in improving students' literacy, developing study skills and increasing the likelihood of better KS 3, 4 and GCSE results.
    £ 1.99    (240+)        £ 2.25    (120+)         £ 2.45   (1-119)
The Word Power dictionary and Word Power thesaurus are excellent value for money……
 From only £ 1.99 each.
     £ 1.99    (240+)       £  2.25    (120+)       £ 2.45   (1-119)             Paperback,
size: 1225 x 1930 mm,  384 pages,  approx  15,000 headwords and 35,000 definitions.    You can "mix and match"  dictionaries and thesauri to  make up  to a price break as shown.
From only £ 1.99 each    The  RRP of the  Word Power dictionary  and the Word Power  thesaurus  is £ 5.99.  Paperback, size:  1225 x 1930 mm,  384 pages,  approx  150,000 synonyms.        Delivery extra.
NB. Currently the Word Power Dictionary is not available.
School English Dictionary ….. only    49p  if you order 50 or more !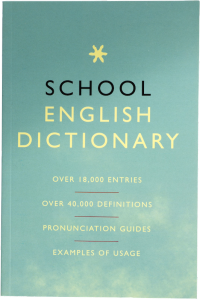 A useful dictionary for KS 3, 4 and GCSE.  With over 18,000 entries and 40,000 definitions,  this dictionary is great value. The print is slightly  smaller than the dictionaries above but at only   49p each it's a great deal.
Min. order is 50 dictionaries.    Delivery extra.
LIMITED STOCKS
Normal paperback size  (130 x 196 mm)  Limited stocks.
PROLONG THE LIFE SPAN OF YOUR BOOKS…..  by using CLEAR PVC  protective covers…….
We can now offer clear PVC covers to protect these books.  They are easy to use and do not require any glue or tape. They cost  from 32p each ex vat,  with a min. order of 100 covers.
Please contact us for  details and prices.