AX 595    A popular  calc from Aurora, one of the world's largest calculator manufacturers.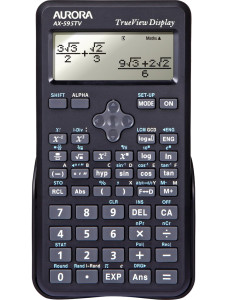 Features "TrueView" display which allows data to be displayed as shown in textbooks and worksheets. Algebraic logic,  four line dot matrix display, 254 functions,  hard plastic keys,  slide-on case.   An excellent alternative to the leading brand.
  Only     £ 5.50  each  (min 50)   
Class sets are a  useful way of storing calcs. The clear plastic lid and the foam slots make it easy to see if any calcs are missing at the end of lessons !           Prices exclude VAT.